DAVID'S VINTAGE SNOWMOBILE PAGE.
RESTORING THE SPORT ONE PIECE AT A TIME.
PAGE 31,154
SKI BEC / SKE BEC
SNOWMOBILE HISTORY BELOW
---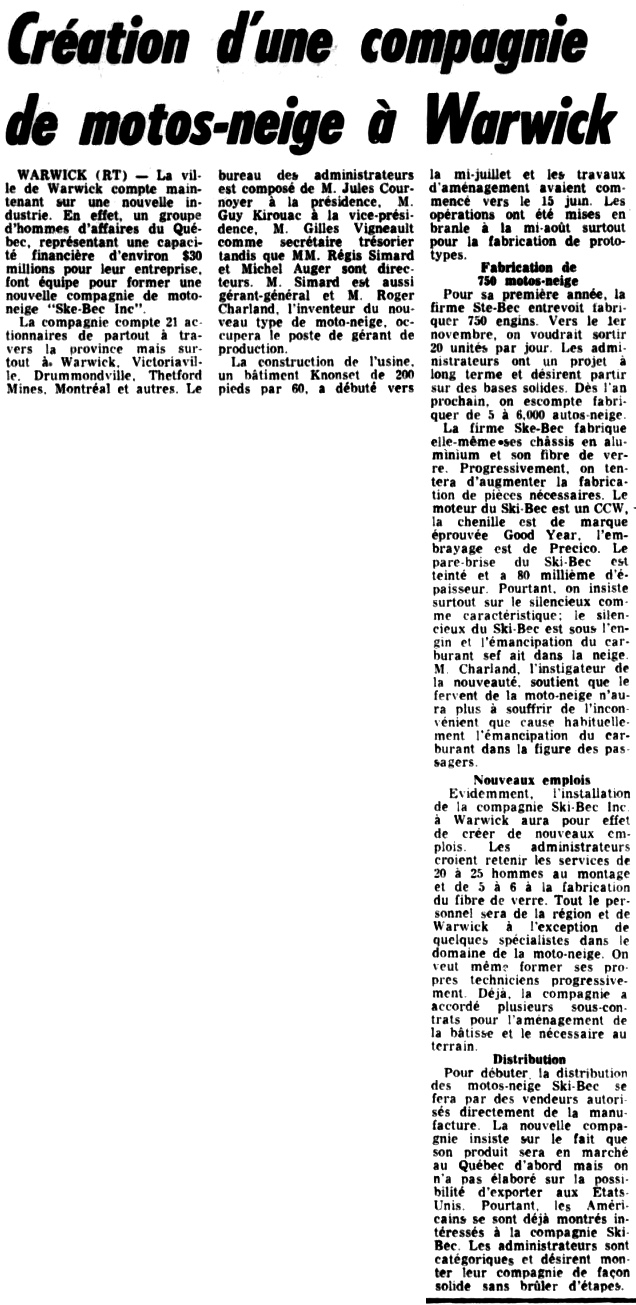 1971 SKI BEC SNOWMOBILE COMPANY HISTORY
SKI BEC SNOWMOBILES WERE MADE BY SKE BEC INC.
IN WARWICK, QUÉBEC, CANADA
IT SAYS THE FOLLOWING.........
THE CITY OF WARWICK NOW HAS A NEW INDUSTRY.
A GROUP OF BUSINESSMEN IN QUÉBEC WITH A COMBINED NET WORTH OF
30 MILLION DOLLARS GOT TOGETHER TO FORM SKE BEC INC.
THE COMPANY CONSISTS OF 21 SHAREHOLDERS THAT CROSS THE PROVINCE
FROM AREAS LIKE WARWICK, VICTORIAVILLE, DRUMMONDVILLE,
THETFORD MINES, MONTREAL AND OTHER REGIONS.
THE WORK ON THE SITE TO BUILD THE PLANT STARTED MID JUNE.
THE CONSTRUCTION OF THE SNOWMOBILE PLANT STARTED IN MID JULY.
PRODUCTION HAS BEEN PUT OFF UNTIL A FINAL PROTOTYPE IS FINISHED.
FOR THE FIRST YEAR, THEY WANT TO PRODUCE 750 SNOWMOBILES.
BY THE FIRST OF NOVEMBER, THEY WANT TO PRODUCE 20 SNOWMOBILES A DAY.
FOR THE FOLLOWING MODEL, 1972, THEY WANT TO
PRODUCE A TOTAL OF 5000 TO 6000 SKI BEC SNOWMOBILES.
SKE BEC IS PRODUCING THEIR OWN ALUMINUM CHASSIS AND FIBERGLASS HOODS.
THEY WILL HAVE CCW MOTORS AND GOODYEAR TRACKS.
THEY WILL USE PRECICO CLUTCHES.
THEY WILL HAVE TINTED WINDSHIELDS.
25 - 30 PERMANENT JOBS WILL BE CREATED BUILDING THE FIRST
MODEL YEAR ( 1971 ) SKI BEC SNOWMOBILES AND
5 - 6 JOBS WILL BE CREATED IN THE FIBERGLASS PRODUCTION BUILDING.
ALL EMPLOYEES WILL BE FROM THE WARWICK AREA WITH
THE EXCEPTION OF SOME SPECIALISTS IN THE SNOWMOBILE FIELD.
SKI BEC WILL DISTRIBUTE THEIR SNOWMOBILES TO DEALERS DIRECTLY AT
THE FACTORY. THEY WANT TO ENSURE A STRONG FOOTING IN QUÉBEC BEFORE
THINKING OF EXPORTING SKI BEC SNOWMOBILES TO THE USA.
---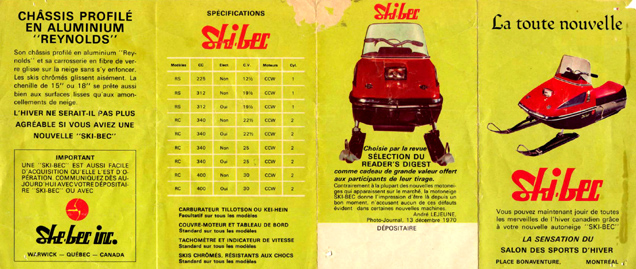 CLICK HERE
TO SEE THE 1971 SKI BEC BROCHURE.
---
CLICK HERE
TO SEE A SKI BEC HISTORY VIDEO
BY DAVID TAYLOR.