DAVID'S VINTAGE SNOWMOBILE PAGE.
RESTORING THE SPORT ONE PIECE AT A TIME.
PAGE 31,155
SKI BEC / SKE BEC
SNOWMOBILE HISTORY BELOW
---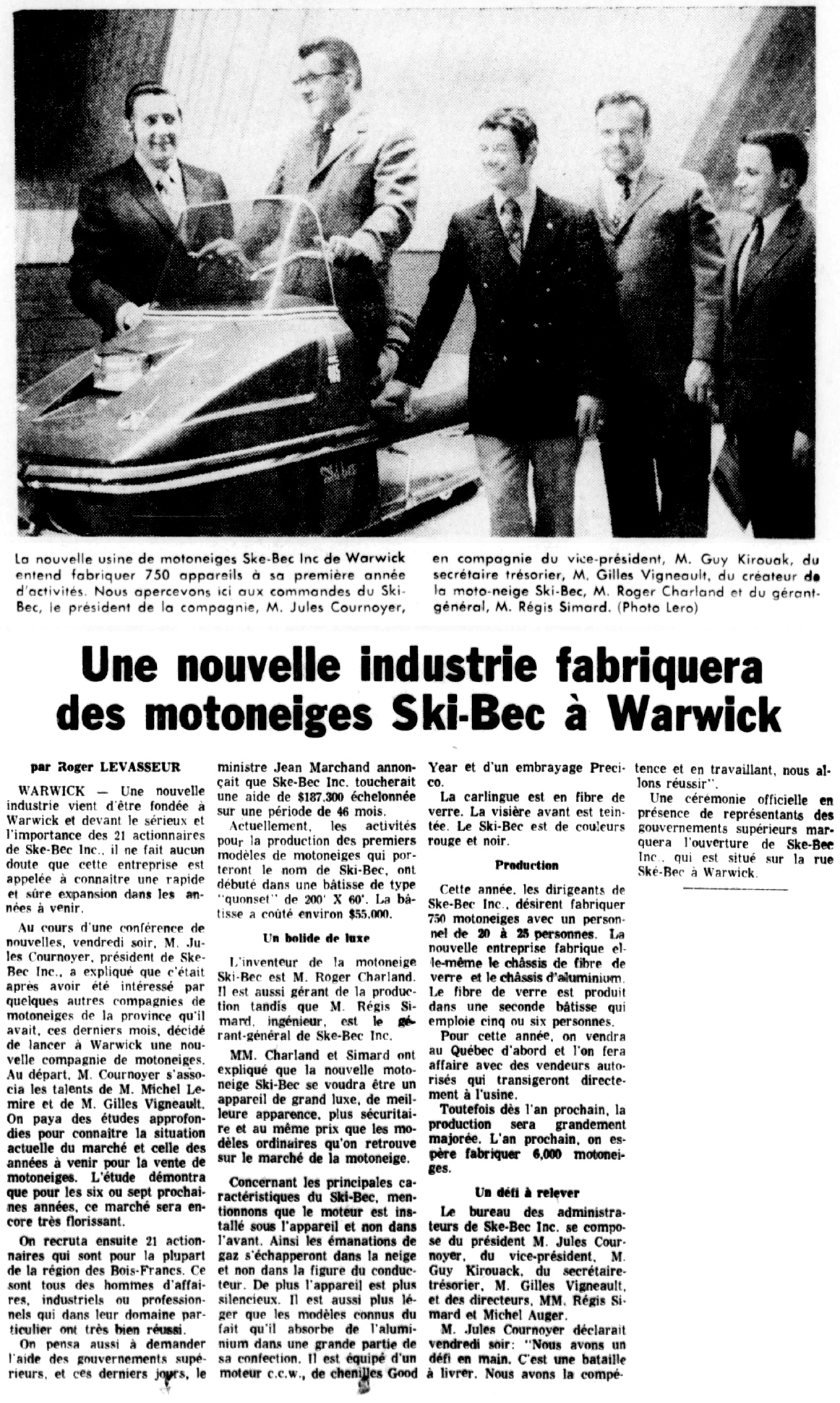 1971 SKI BEC SNOWMOBILE COMPANY HISTORY
SKI BEC SNOWMOBILES WERE MADE BY SKE BEC INC.
IN WARWICK, QUÉBEC, CANADA
---
THE PICTURE SAYS THE FOLLOWING
THE NEW SNOWMOBILE PLANT AT WARWICK PLANS TO BUILD 750 SNOWMOBILE THIS FIRST YEAR.
JULES COURNOYER ( PRESIDENT OF SKI BEC INC ) IS ON THE SNOWMOBILE.
---
THE TEXT IN THE NEWSPAPER SAYS THE FOLLOWING.........
A NEW INDUSTRY WILL PRODUCE SKI BEC SNOWMOBILES IN THE CITY OF WARWICK.
21 SHAREHOLDERS FORMED THIS COMPANY AND IT LEAVES NO DOUBT THAT A RAPID
EXPANSION OF THE COMPANY WILL HAPPEN.
ON A CONFERENCE CALL FRIDAY, JULES COURNOYER ( PRESIDENT OF SKI BEC INC ) SAID
A DECISION WAS MADE TO LAUNCH A NEW SNOWMOBILE COMPANY IN WARWICK, QUÉBEC.
A STUDY SHOWED THAT THE SNOWMOBILE INDUSTRY WILL BE STRONG FOR 6 OR 7 MORE YEARS.
THE QUEBEC GOVT IS GOING TO LEND $ 187,300.00 FOR 46 MONTHS.
THE SNOWMOBILE PLANT WHICH IS 200 ' X 60 ' COSTS $ 55,000.00.
THE INVENTOR OF THE SKI BEC SNOWMOBILE IS ROGER CHARLAND, SEEN IN PHOTO.
SKI BEC IS TO BE A LUXURY SNOWMOBILE WITH GREAT APPEARANCE AND SECURITY FOR
THE SAME PRICE AS ORDINARY SNOWMOBILES ON THE MARKET.
THE MOTOR IS INSTALLED LOWER IN THE CHASSIS RATHER THAN ORDINARY SNOWMOBILES WHICH
HAVE THE MOTOR FRONT MOUNTED OVER THE TUNNEL.
IT IS LIGHTWEIGHT DUE TO THE ALUMINUM CHASSIS.
THEY WILL HAVE CCW MOTORS AND GOODYEAR TRACKS.
THEY WILL USE PRECICO CLUTCHES.
THEY WILL HAVE TINTED WINDSHIELDS.
THE HOODS ARE FIBERGLASS AND THE WINDSHIELDS ARE TINTED.
SKI BEC SNOWMOBILES WILL BE RED WITH BLACK.
FOR THE FIRST YEAR, THEY WANT TO PRODUCE 750 SNOWMOBILES.
25 - 30 PERMANENT JOBS WILL BE CREATED BUILDING THE FIRST
MODEL YEAR ( 1971 ) SKI BEC SNOWMOBILES AND
5 - 6 JOBS WILL BE CREATED IN THE FIBERGLASS PRODUCTION BUILDING.
SKE BEC INC IS PRODUCING THEIR OWN ALUMINUM CHASSIS AND FIBERGLASS HOODS.
SKI BEC WILL DISTRIBUTE THEIR SNOWMOBILES TO DEALERS DIRECTLY AT
THE FACTORY. THEY WANT TO ENSURE A STRONG FOOTING IN QUÉBEC BEFORE
THINKING OF EXPORTING TO THE USA.
FOR THE FOLLOWING MODEL YEAR, 1972, THEY WANT TO
PRODUCE A TOTAL OF 6000 SKI BEC SNOWMOBILES.
A CEREMONY WAS HELD FOR THE OFFICIAL OPENING OF THE PLANT WITH
GOVT OFFICIALS AND TOP EMPLOYEES OF SKE BEC INC.

---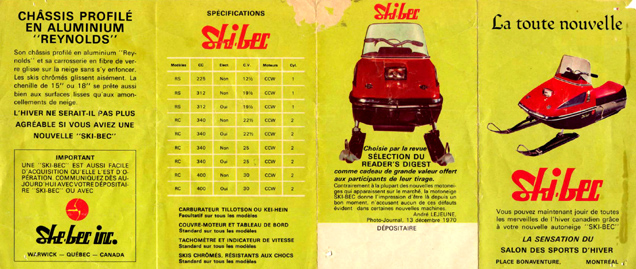 CLICK HERE
TO SEE THE 1971 SKI BEC BROCHURE.
---
CLICK HERE
TO SEE A SKI BEC HISTORY VIDEO
BY DAVID TAYLOR.