DAVID'S VINTAGE SNOWMOBILE PAGE.
RESTORING THE SPORT ONE PIECE AT A TIME.
PAGE 31,161
MONTAGNAIS
SNOWMOBILE COMPANY HISTORY BELOW
---


1973 MONTAGNAIS SNOWMOBILE COMPANY INFORMATION
HERE IS PART OF THE ARTICLE.
THE ARTICLE SAYS THE FOLLOWING.........
EVEN THOUGH HE IS ...............
PRESIDENT, FOUNDER AND MAIN SHAREHOLDER, OF THE LAC ST JEAN MOTO-NEIGE SNOWMOBILE COMPANY,
CHARLES HENRI DESMEULES LENDS A HAND AT THE MONTAGNAIS SNOWMOBILE COMPANY.
THE FUTURE OF THE LAC ST JEAN MONTAGNAIS SNOWMOBILE COMPANY IS STRONGLY COMPROMISED IN THE REGION.
THE DIFFICULTIES OF PUTTING THIS SNOWMOBILE COMPANY IN PLACE HAS BEEN DIFFICULT AND
ENTERING THEIR 3RD YEAR OF EXISTENCE, THE SURVIVAL IS FAR FROM ASSURED.
THIS COMPANY WAS ESTABLISHED IN ALMA, QUÉBEC, FOR MORE THAN 1 YEAR.
THIS COMPANY, WHICH WAS FIRST SET UP IN HEBERTVILLE AFTER BEING SET UP BY 5 BUSINESSMEN
FROM THE REGION HAVE NOT RECEIVED THE SUCCESS THAT WAS PREDICTED FOR THE MONTAGNAIS SNOWMOBILE.
WE WERE NOT INTERESTED IN DISTRIBUTORS TO ENSURE THE SALES OF OUR MACHINE.
THE DISTRIBUTORS ALSO CARRY OTHER BRANDS AND THEY TEND TO PUSH MORE RECOGNIZED BRANDS.
IT'S HARD TO COMPETE AGAINST WELL ESTABLISHED BRANDS THAT CONTROL THE MARKETPLACE.
THE SHAREHOLDERS KEEP INVESTING MONEY INTO THE COMPANY.
THEY HAD DEFICITS OF $32,500.00 THE FIRST YEAR AND $ 25,000.00 THE SECOND YEAR.
TO SURVIVE, THEY MUST SELL MORE SNOWMOBILES THAT THEY SOLD THE FIRST 2 YEARS.
IF THEY KEEP THE CURRENT PACE OF SALES OF MONTAGNAIS SNOWMOBILES, IT WILL BE IMPOSSIBLE TO SURVIVE.
SINCE THE START OF THE COMPANY 2 YEARS AGO, THEY HAVE NOT SOLD 300 MONTAGNAIS SNOWMOBILES.
75 MONTAGNAIS SNOWMOBILES WERE SHIPPED TO THE USA LAST YEAR.
THE REMAINING SLEDS WERE SOLD OUTSIDE OF THIS ALMA REGION.
PRESENTLY THIS COMPANY HAS NOT PROVIDED A WAY TO DISTRIBUTE THEIR SNOWMOBILES AT THE
REGIONAL LEVEL. THEY OFFER ASSURED SALES TO THE LAC ST JEAN AND SAGUENAY AREAS FROM THE PLANT.
SO FAR, THEY DO NOT HAVE AN REGIONAL SALES THIS YEAR.
THE LEADERS OF THE COMPANY ARE LOOKING TO MOVE THE COMPANY TO A BETTER LOCATION FOR DISTRIBUTION.
A BRANCH HAS JUST BEEN OPENED IN QUEBEC CITY WHERE A DISTRIBUTOR HAS
JUST SOLD MANY MONTAGNAIS SNOWMOBILES IN A FEW WEEKS.
IF STRONG SALES CONTINUE, THERE IS A STRONG POSSIBILITY THAT THEY WILL MOVE TO A NEW LOCATION IN THE
SPRING OF 1973 WHICH WILL END THE COMPANY LOCATION IN THE LAC ST JEAN AND SAGUENAY AREAS.
IT WILL BE VERY REGRETTABLE FOR THE AREA, ESPECIALLY ALMA,
WHERE THEY ARE FIGHTING TO GET NEW INDUSTRIES.
---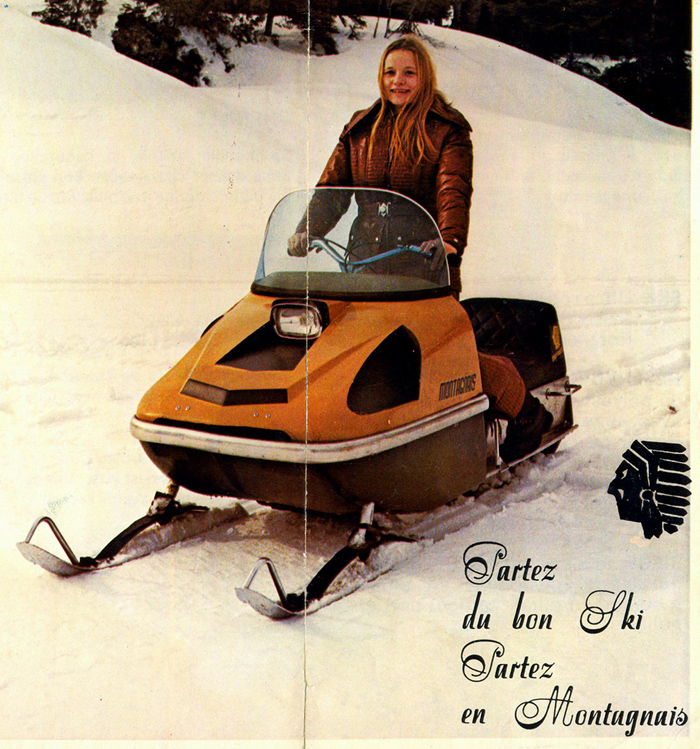 1972 MONTAGNAIS SNOWMOBILE

1973 MONTAGNAIS SNOWMOBILE