DAVID'S VINTAGE SNOWMOBILE PAGE.
RESTORING THE SPORT ONE PIECE AT A TIME.
PAGE 31,189
---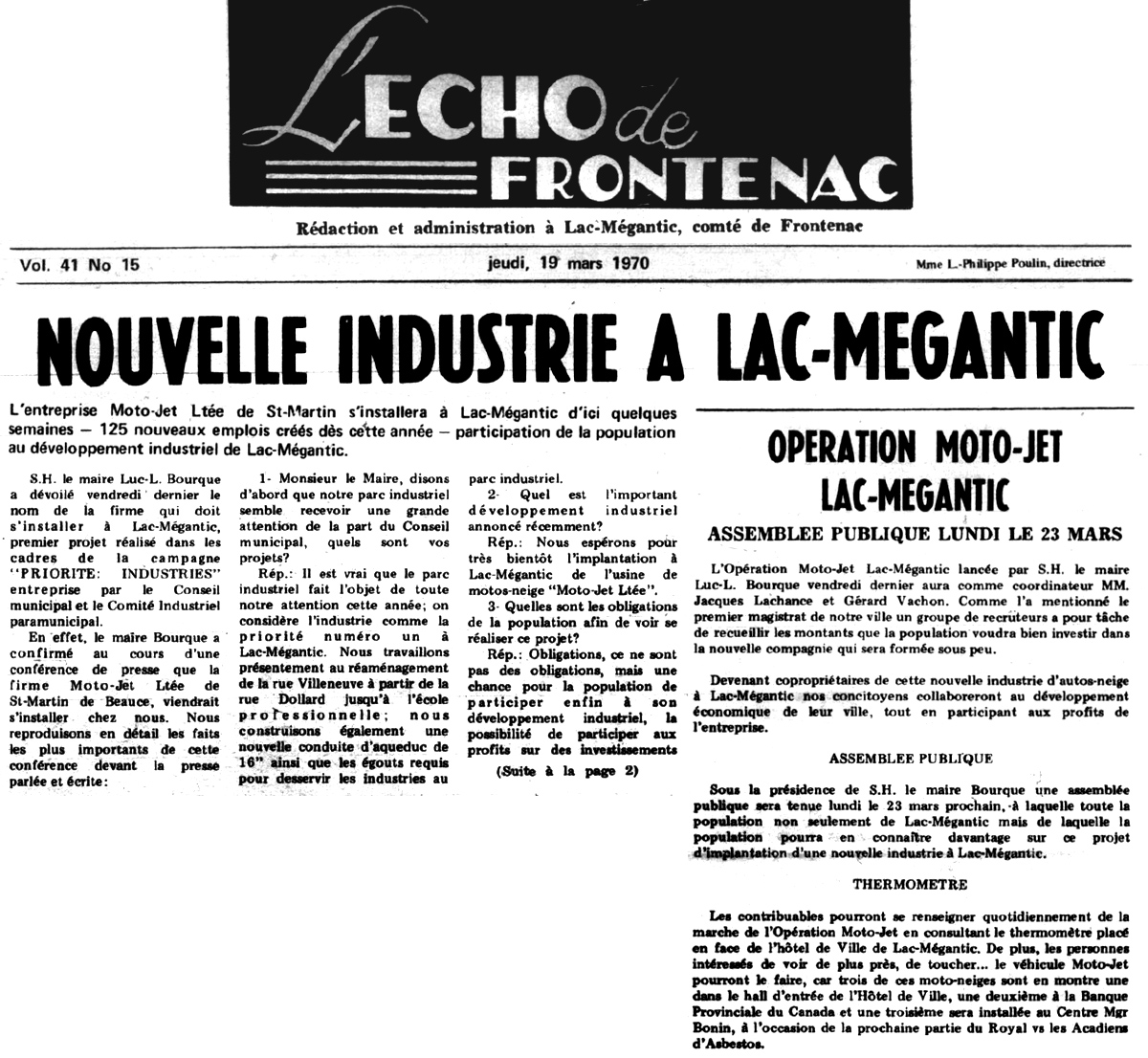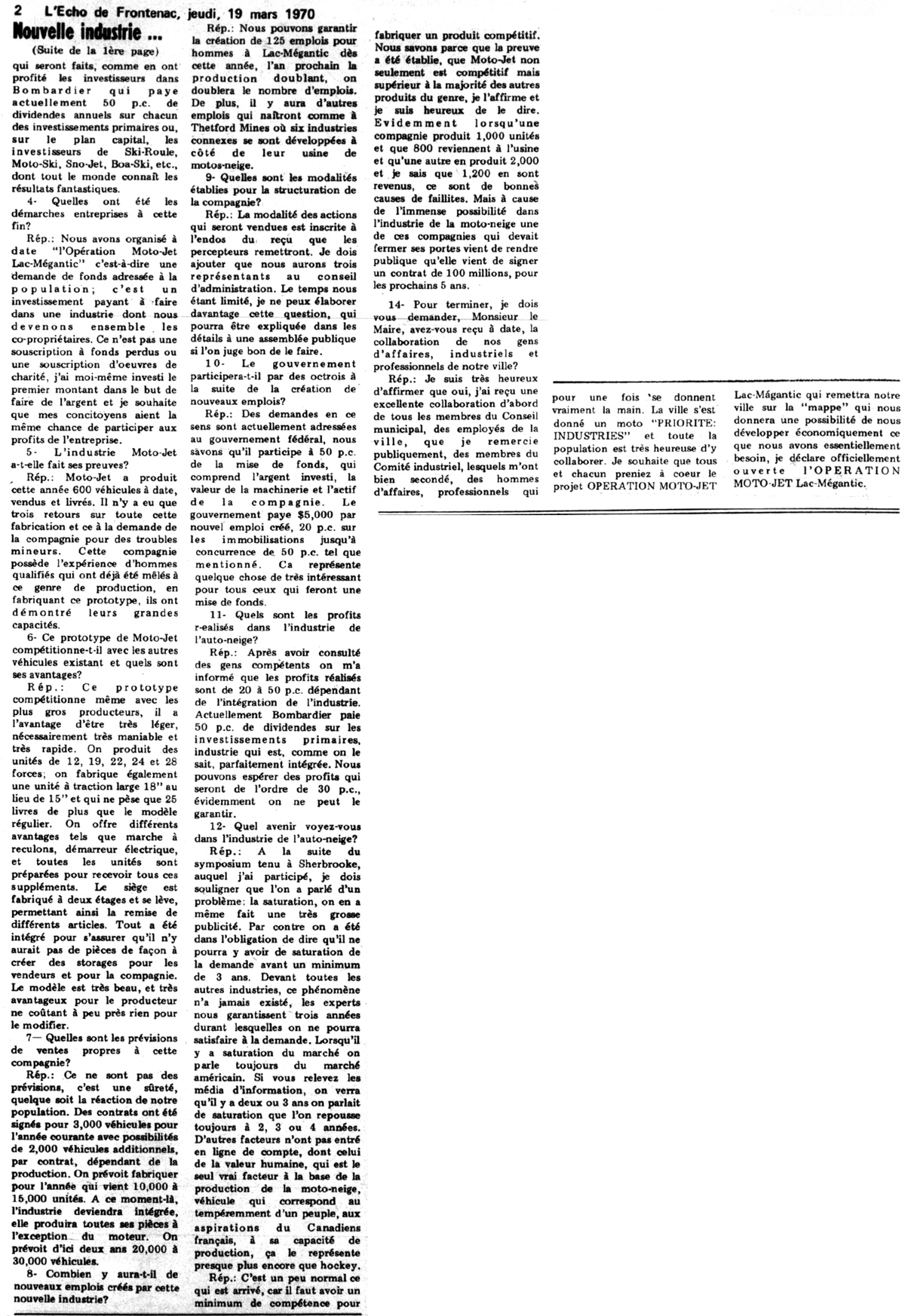 1970 MOTO JET SNOWMOBILE COMPANY NEWS
THIS ARTICLE SAYS SOME OF THE FOLLOWING ABOUT MOTO JET LTÉE.
A NEW INDUSTRY IS COMING TO LAC MEGANTIC. MOTO JET SNOWMOBILES WILL BE BUILT HERE.
125 NEW JOBS WILL BE CREATED AND PUBLIC PARTICIPATION IN THE DEVELOPMENT IS NEEDED.
THE MAYOR ANNOUNCED LAST FRIDAY THAT THIS WAS THE FIRST PART OF REVITALIZING THE LAC MEGANTIC AREA.
AT A NEWS CONFERENCE, THE MAYOR ANNOUNCED THAT MOTO JET OF ST MARTIN DE BEAUCE WOULD BE
BUILDING A NEW FACILITY IN LAC MEGANTIC TO BUILD SNOWMOBILES.
SOME OF THE HIGHLIGHTS OF THE SPEECH WERE........
FINDING THE RIGHT SPOT FOR THE PLANT TO BE BUILT IN THE INDUSTRIAL PARK.
WHAT ARE THE OBLIGATIONS OF THE PUBLIC FOR BUILDING THIS PLANT.
WELL, IT IS NOT REALLY OBLIGATIONS BUT A CHANCE TO PARTICIPATE IN THE DEVELOPMENT OF THE
COMPANY AND PROFIT FROM THE INVESTMENTS MADE BY THE PUBLIC.
JUST LIKE THE INVESTMENTS THAT WERE MADE BY THE PUBLIC INTO COMPANIES LIKE BOMBARDIER / SKI DOO, WHICH
PAYS A DIVIDENDS OF 50 % OR THE INVESTMENTS MADE INTO COMPANIES LIKE SKIROULE, MOTO SKI, SNO JET,
BOA SKI ETC AND YOU KNOW ABOUT THE FANTASTIC RESULTS THAT THEY GOT FROM INVESTING.
WE ARE LAUNCHING OPERATION MOTO JET.
IT IS A REQUEST FOR FUNDS FROM THE PUBLIC TO BECOME CO-OWNERS OF THE MOTO JET LTÉE COMPANY.
MOTO JET PRODUCED AND DELIVERED 600 SNOWMOBILES TO DATE.
THERE WERE 3 RETURNS WITH MINOR PROBLEMS.
THIS COMPANY HAS EXPERIENCED MEN SHOWING THE CAPACITY TO PRODUCE A QUALITY SNOWMOBILE.
MOTO JET WILL HAVE 12, 19, 22, 24 & 28 HP SNOWMOBILES.
THEY ARE LIGHT AND AGILE.
THEY WILL HAVE 15 & 18 INCH TRACK MODELS.
ELECTRIC STARTING IS AVAILABLE. THEY HAVE A SEAT WITH 2 LEVELS.
THEY HAVE CONTRACTS FOR 3000 MOTO JET SNOWMOBILES WITH
THE POSSIBILITY OF SELLING ANOTHER 2000 THIS YEAR.
WE PREDICT SELLING 10,000 SNOWMOBILES IN A SEASON AND 20,000 TO 30,000 IN 2 YEARS FROM NOW.
HOW MANY JOBS WILL BE CREATED?
WE GUARANTEE 125 NEW JOBS RIGHT AWAY WITH AND IF PRODUCTION DOUBLES NEXT YEAR,
WE WILL DOUBLE THE NUMBERS OF EMPLOYEES AT THE PLANT.
IF A COMPANY BUILDS 1000 SNOWMOBILES AND 800 COME BACK DUE TO FAULTS, THAT COMPANY WILL
GO BANKRUPT VERY FAST. MOTO JET HAS A GREAT PRODUCT SO NO WORRIES.
THERE ARE POSSIBILITIES OF SIGNING HUGE DEALS THAT ARE WORTH MILLIONS OF DOLLARS.
THIS REFERS TO THE HUGE DEAL THAT DAUPHIN SIGNED WITH J C PENNEY FOR 5 YEARS / 100,000 SNOWMOBILES.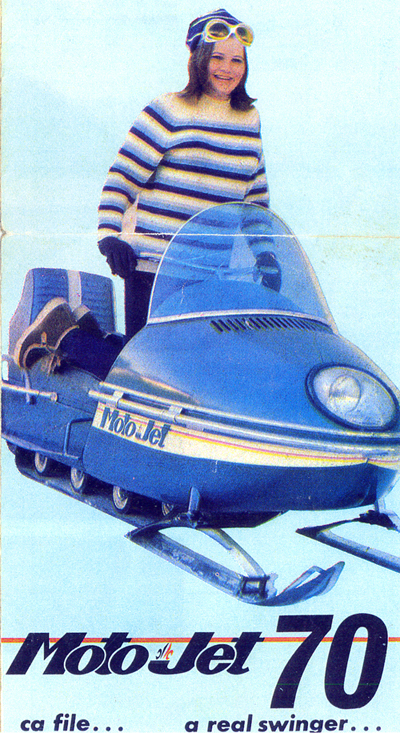 PICTURE OF A 1970 MOTO JET SNOWMOBILE
PICTURE OF A 1971 MOTO JET SNOWMOBILE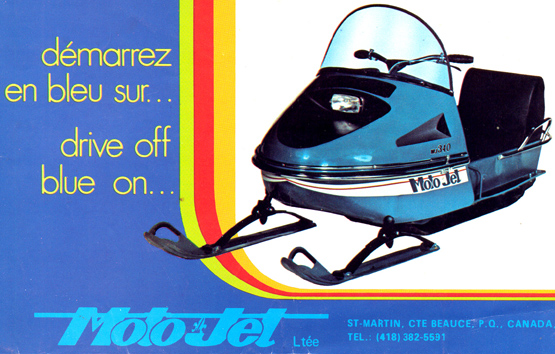 PICTURE OF A 1972 MOTO JET SNOWMOBILE