DAVID'S VINTAGE SNOWMOBILE PAGE.
RESTORING THE SPORT ONE PIECE AT A TIME.
PAGE 31,489
---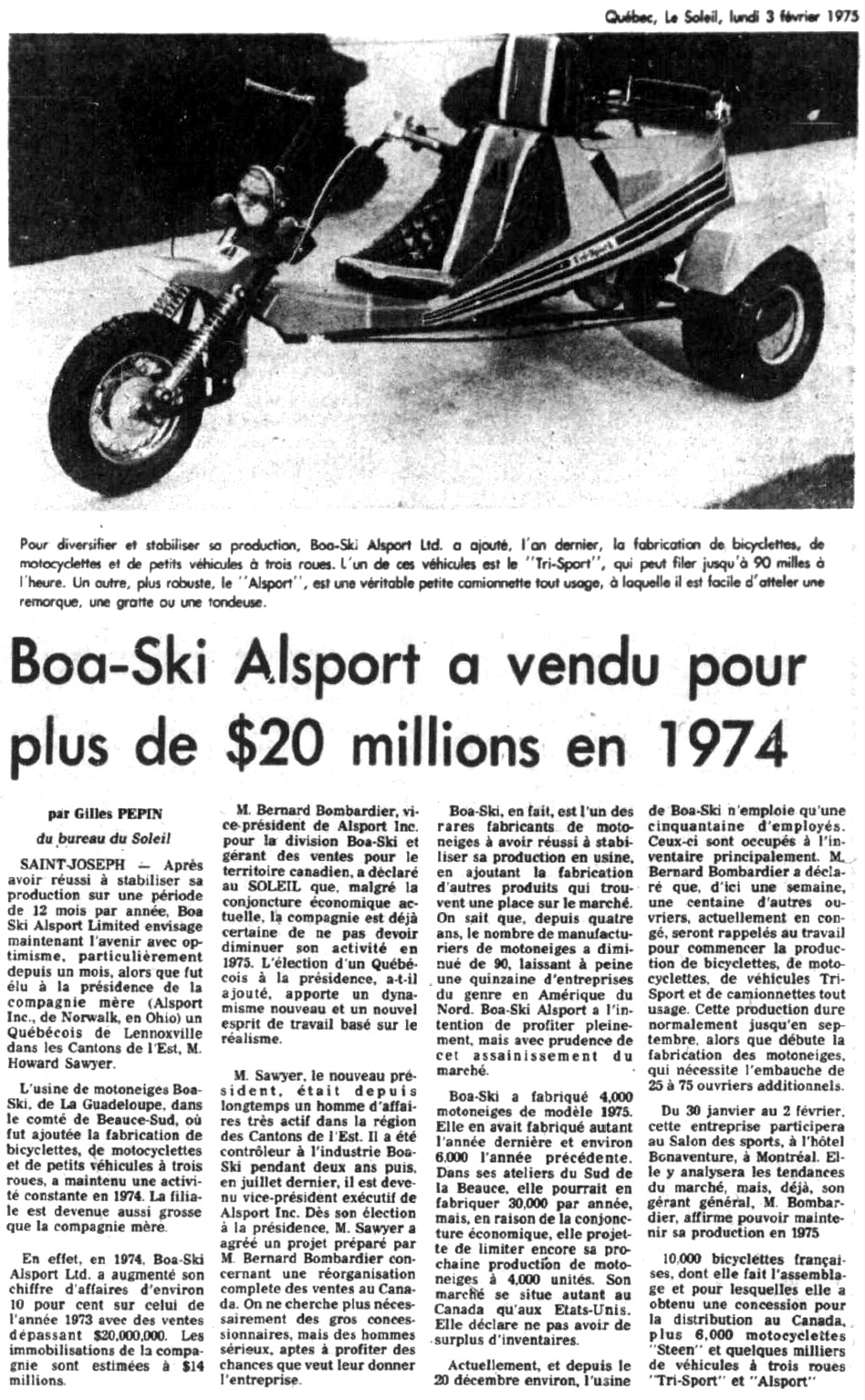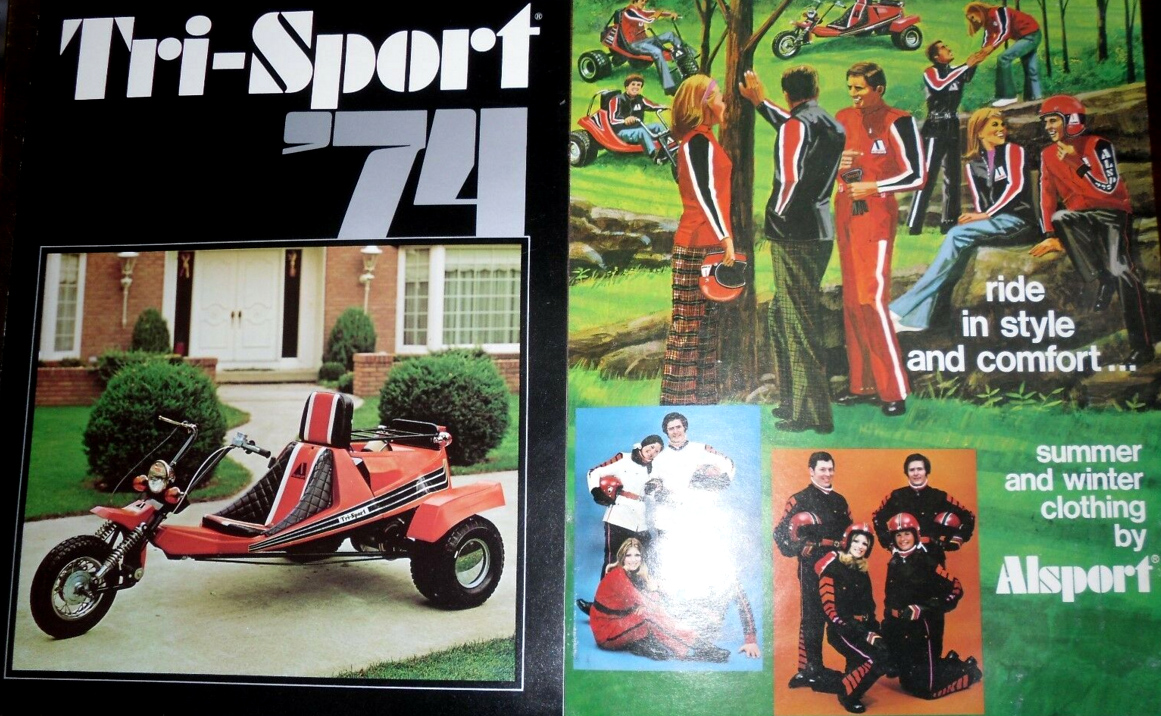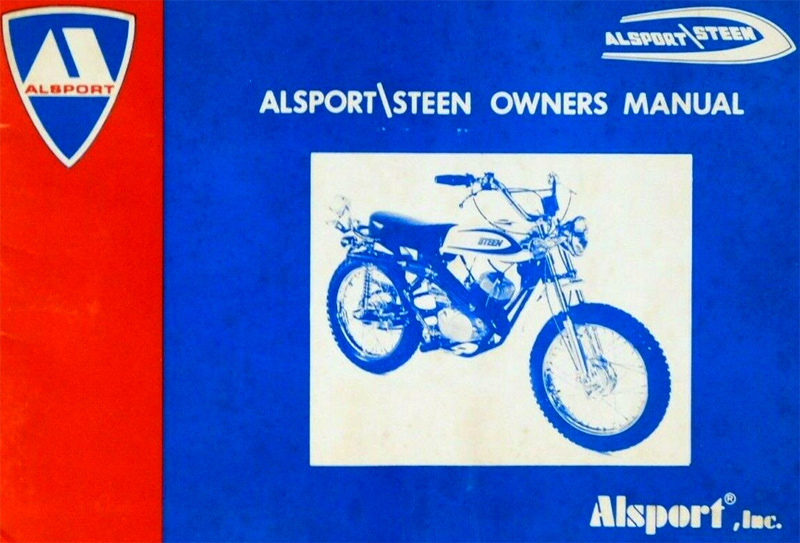 I DO NOT KNOW THE YEAR OF THIS MOTORCYCLE. PICTURE IS JUST TO SHOW THE PRODUCT.
1975 BOA SKI SNOWMOBILE COMPANY HISTORY.
1975 BOA SKI SNOWMOBILE / 1974 / 1975 ALSPORT TRI SPORT ATV
THE TEXT SAYS SOME OF THE FOLLOWING.....
TO DIVERSIFY AND STABILIZE THEIR PRODUCTION, BOA SKI / ALSPORT LTD LAST YEAR
ADDED A 3 WHEEL TRIKE / ATV CALLED THE TRI SPORT WHICH CAN GO UP TO 90 MPH.
BOA SKI ALSPORT WAS SOLD IN 1974 FOR MORE THAN 20 MILLION DOLLARS.
AFTER HAVING SUCCESS DURING THE LAST 12 MONTHS TO STABILIZE THE PRODUCTION,
BOA SKI / ALSPORT IS NOW LOOKING TO THE FUTURE WITH OPTIMISM ESPECIALLY AFTER ELECTING THE PRESIDENT.
THE PRESIDENT OF OF ALSPORT INC - WHICH IS LOCATED IN NORWALK, OHIO, USA,
IS FROM THE EASTERN TOWNSHIPS OF QUÉBEC.
THE PLANT IN LA GAUDELOUPE ADDED THE FABRICATION OF BICYCLES, MOTORCYCLES AND
A SMALL 3 WHEEL VEHICLES NOW PROVIDING CONSTANT WORK ALL YEAR LONG.
THIS PLANT NOW IN LA GUADELOUPE IS AS BIG AS THE HEAD COMPANY IN THE USA.
IN EFFECT, IN 1974, BOA SKI ALSPORT ADJUSTED THEIR BUSINESS NUMBERS BY 10 % FOR
THE 1973 YEAR WHICH WAS OVER $ 20,000,000.
THE FIXED ASSETS OF THE COMPANY ARE 14 MILLION DOLLARS.
IN FACT, BOA SKI IS ONE OF THE RARE COMPANIES THAT HAS HAD SUCCESS
IN STABILIZING THEIR PRODUCTION WITH A SECOND PRODUCT.
IN THE LAST 4 YEARS, THE NUMBERS OF SNOWMOBILE COMPANIES HAS FALLEN FROM 90
DOWN TO ABOUT 15 AND BOA SKI PLANS TO PROFIT FROM THIS SITUATION.
BOA SKI PRODUCED 4000 ( 1975 BOA SKI SNOWMOBILES ).
THE PREVIOUS YEAR.....
BOA SKI PRODUCED 6000 ( 1974 BOA SKI SNOWMOBILES ).
THEY HAD THE CAPACITY TO BUILD 30,000 BOA SKI SNOWMOBILES BUT DUE TO
POOR ECONOMIC TIMES THEY DECIDED TO LIMIT PRODUCTION.
THEIR MARKET IS CANADA AND THE USA & THEY DO NOT WANT TO CARRY INVENTORY.
AT THE PLANT SINCE DECEMBER 20, 1974, THEY HAD ONLY 50 EMPLOYEES.
MAINLY THEY ARE WORKING ON CALCULATING INVENTORY.
WITHIN A WEEK ANOTHER 100 WORKERS WILL BE RECALLED TO START PRODUCTION OF
BICYCLES, MOTORCYCLES AND THE TRI SPORT 3 WHEEL ATV & AN ALL PURPOSE TRUCK.
THIS PRODUCTION USUALLY LASTS UNTIL SEPTEMBER SO IT IS NECESSARY TO
REHIRE ABOUT 25 TO 75 WORKERS FOR BOA SKI SNOWMOBILE PRODUCTION.
FROM JANUARY 30TH TO FEBRUARY 2, 1975, THIS COMPANY WAS AT THE SPORTS SHOW IN
MONTREAL, QUÉBEC AT PLACE BONAVENTURE TO JUDGE TRENDS BUT THE DECISION WAS
ALREADY MADE TO PRODUCE IN 1975 THE 1976 BOA SKI SNOWMOBILE LINE.
10,000 BICYCLES WERE ASSEMBLED TO DISTRIBUTE IN CANADA.
ALSO, 6000 ALSPORT STEEN MOTORCYCLES WERE PRODUCED.
A FEW THOUSAND ALSPORT TRI SPORT ATV'S WERE PRODUCED AS WELL.