DAVID'S VINTAGE SNOWMOBILE PAGE.
RESTORING THE SPORT ONE PIECE AT A TIME.
PAGE 33,345B
---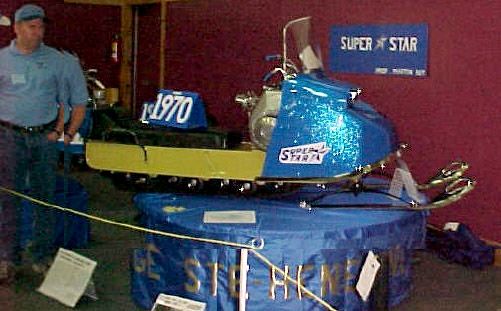 1970 SUPER STAR SNOWMOBILE ???
SCROLL ALL THE WAY DOWN
FOR MORE HISTORY !!!!
THIS PHOTO SHOWS A PICTURE OF A SUPER STAR SNOWMOBILE.
MY RECORDS SHOW THAT 1971 WAS THE FIRST MODEL PRODUCED.
THIS MAY BE A 1970 PROTOTYPE OR A 1971 SUPER STAR SNOWMOBILE.
---
THE SUPER STAR SNOWMOBILE IS A HARD BRAND TO
FIND INFORMATION ON. IT MAY BE DUE TO THE OFFICIAL RECORD OF
THE LISTING IN THE QUÉBEC GAZETTE, THAT THE NAME IS LISTED
DIFFERENTLY THAT IT IS ON THE BROCHURE.
B.C.R AUTO-NEIGE INC VS AUTONEIGE B.C.R INC.
---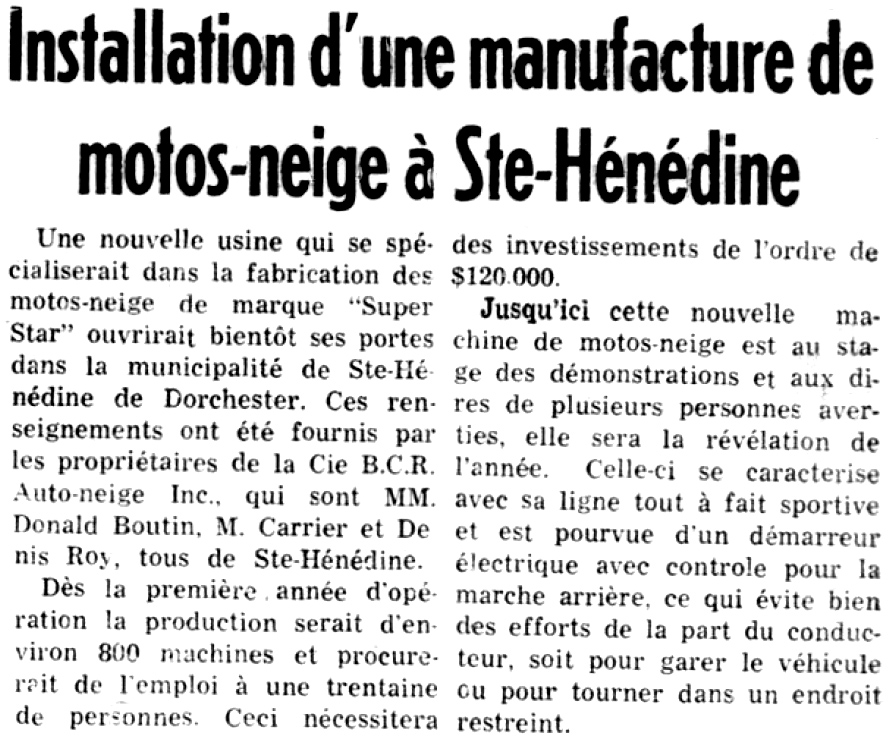 THIS TEXT SAYS SOME OF THE FOLLOWING.....
A NEW PLANT SPECIALIZING IN THE FABRICATION OF SNOWMOBILES UNDER THE NAME OF
SUPER STAR WILL OPEN THEIR DOORS SOON IN THE MUNICIPALITY OF
STE HÉNÉDINE, QUÉBEC. THIS INFORMATION WAS PROVIDED BY THE THE OWNERS OF
LA CIE B.C.R AUTO-NEIGE INC WHO ARE MM. DONALD BOUTIN, M CARRIER AND DENIS ROY ALL
WHO LIVE IN STE HÉNÉDINE, QUÉBEC. THE FIRST YEAR OF OPERATION WILL PRODUCE
ABOUT 800 SUPER STAR SNOWMOBILES AND EMPLOY ABOUT 30 PEOPLE.
THIS REQUIRES AN INVESTMENT OF $ 120,000.
RIGHT NOW THIS SNOWMOBILE IS IN THE STAGE OF DEMONSTRATIONS AND SHOWING
THE SLED TO A LOT OF PEOPLE. THIS WILL BE THE REVELATION OF THE YEAR.
THIS SNOWMOBILE WILL HAVE THE OPTIONS OF ELECTRIC START AND REVERSE TO
ALLOW THE DRIVER TO TURN AROUND IN A CLOSED / RESTRICTED SPACE.
---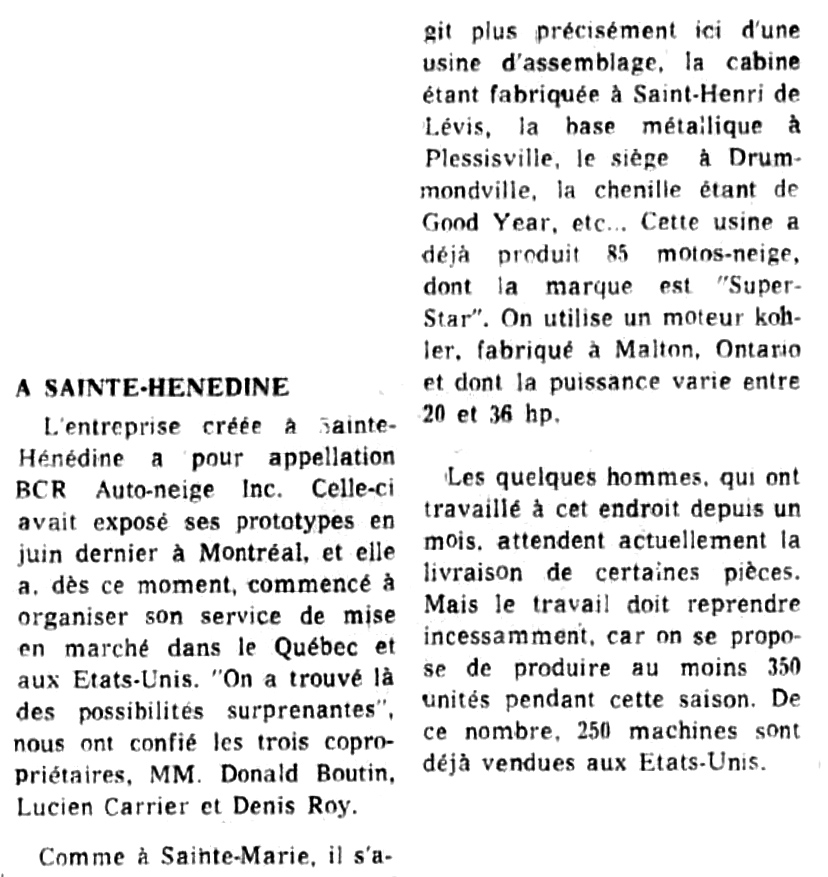 AN ENTERPRISE WAS CREATED IN STE HÉNÉDINE, QUÉBEC CALLED BCR AUTO-NEIGE INC.
THESE SUPER STAR PROTOTYPE SNOWMOBILES WERE ON DISPLAY LAST JUNE IN
MONTREAL, QUÉBEC, CANADA. AT THAT TIME THEY STARTED TO ORGANIZE A
PLAN TO SELL SUPER START SNOWMOBILES IN QUÉBEC AND IN THE USA.
WE HAD SURPRISING RESULTS SAY THE 3 OWNERS,
MM DONALD BOUTIN, LUCIEN CARRIER AND DENIS ROY.
LIKE IN SAINTE MARIE, THERE IS MORE THAN ONE ASSEMBLY FACTORY.
THE CAB / HOOD IS MADE IN SAINT HENRI DE LEVIS.
THE METAL BASE, FRAME IS MADE IN PLESSISVILLE.
THE SEAT IS MADE IN DRUMMONDVILLE.
THE TRACK IS A GOOD YEAR PRODUCT.
THIS PLANT HAS ALREADY PRODUCED 85 SUPER STAR SNOWMOBILES.
IT HAS A KOHLER MOTOR WHICH IS MADE IN MALTON, ONTARIO WITH
MOTORS RANGING FROM 20 HP TO 36 HP.
* Malton is a neighborhood in the northeastern part of the city of Mississauga,
Ontario, Canada, located to the northwest of Toronto.
A FEW OF THE WORKERS WHO ARE WORKING AT THIS PLANT FOR THE LAST MONTH ARE
WAITING FOR SHIPMENTS OF CERTAIN PARTS TO CONTINUE PRODUCTION.
BUT THE PRODUCTION WILL START IMMEDIATELY AS THEY ARE SUPPOSED TO
PRODUCE A MINIMUM OF 350 SUPER STAR SNOWMOBILES AND OF THAT NUMBER,
250 SUPER STAR SNOWMOBILES ARE GOING TO THE USA.
---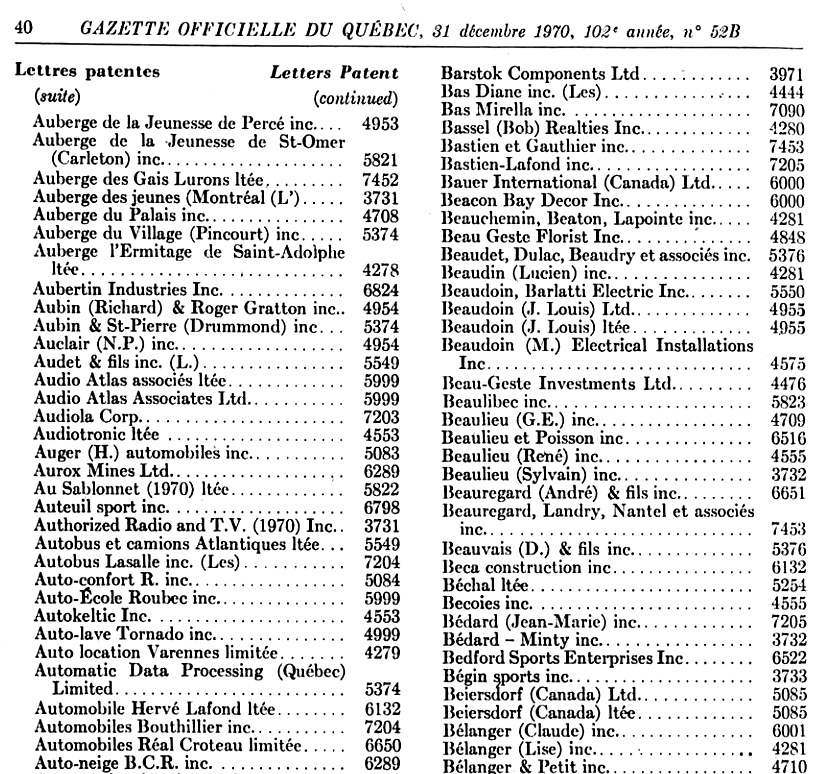 ON THIS REGISTRY AT THE QUÉBEC GOVT,
THE COMPANY IS LISTED AS AUTO-NEIGE B.C.R.INC.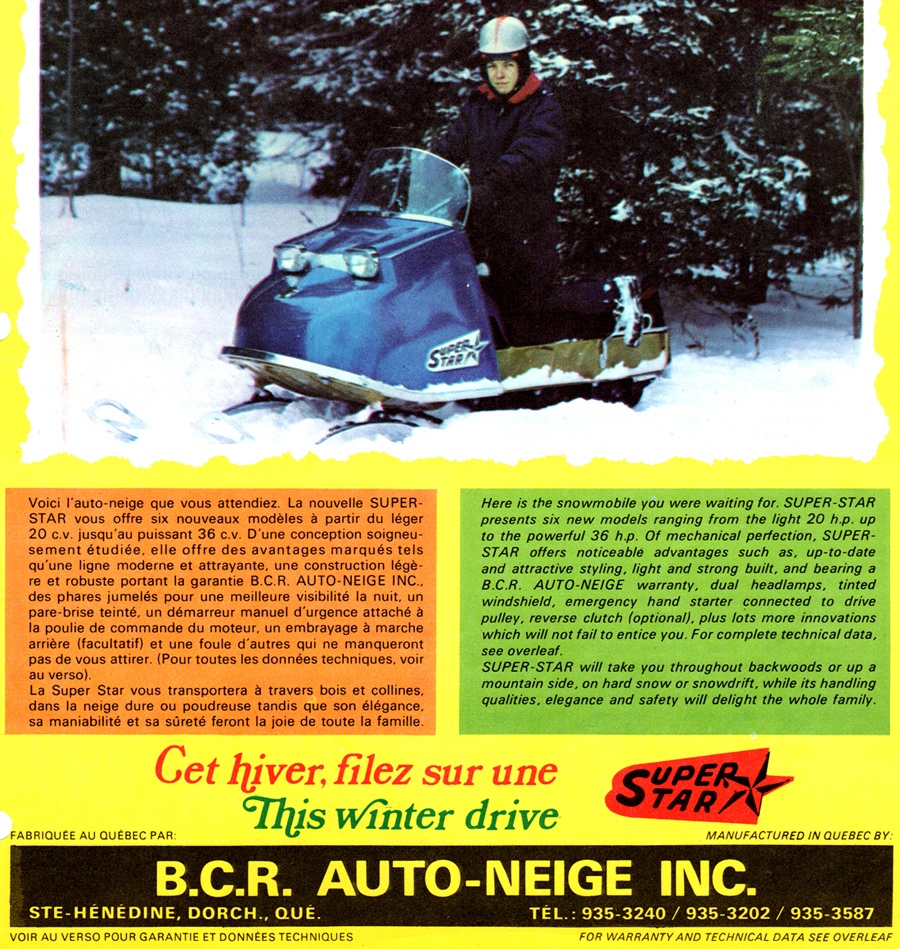 ON THIS 1971 SUPER STAR SNOWMOBILE BROCHURE,
THE COMPANY IS LISTED AS B.C.R AUTO-NEIGE INC.
---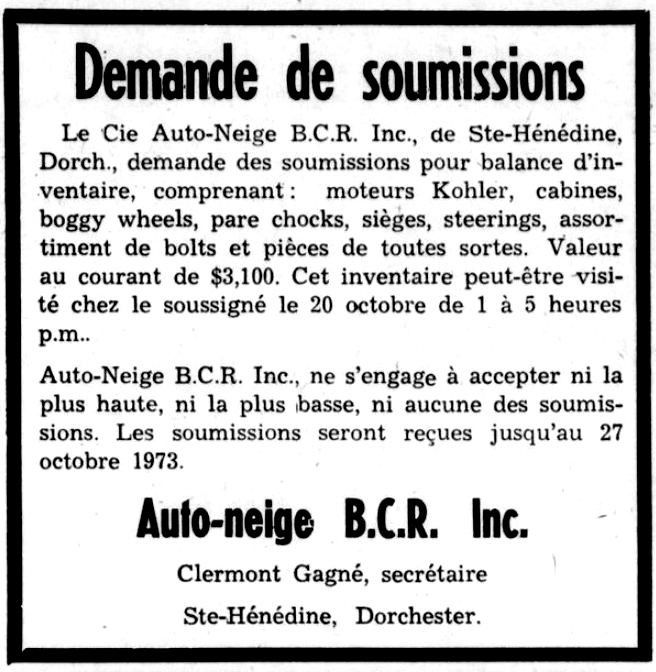 REQUESTS FOR QUOTES.
THE COMPANY AUTO-NEIGES B.C.R INC OF STE HÉNÉDINE, DORCH. QUÉBEC HAS A
REQUEST FOR QUOTES FOR THE BALANCE OF INVENTORY WHICH INCLUDES KOHLER MOTORS,
BOGIE WHEELS, BUMPERS, SEATS, STEERING HANDLE BARS, ASSORTMENT OF
BOLTS AND PIECES OF ALL KINDS. CURRENT VALUE OF $ 3100 DOLLARS.
YOU CAN VISIT THIS INVENTORY ON OCTOBER 20 BETWEEN 1 AND 5 PM.
AUTO-NEIGE B.C.R WILL NOT APPROVE THE HIGHEST OR LOWEST BID OR QUOTES FOR NOW.
THE QUOTES WILL BE ACCEPTED UNTIL OCTOBER 27, 1973 ???
---
OK, HERE IS WHERE I SEE ISSUES WITH THIS AD.
I THINK THERE ARE A COUPLE OF ERRORS IN THE TYPING OF THIS AD.
IT DOES NOT MAKE SENSE THAT ALL OF THAT INVENTORY WOULD BE
OF A CURRENT VALUE OF ONLY $ 3100 DOLLARS.
IT IS IMPOSSIBLE TO HAVE ALL OF THAT INVENTORY LISTED ABOVE WITH
A VALUE OF ONLY $ 3100 SINCE IT INCLUDES MOTORS, FRAMES AND SEATS ECT........
---
ALSO, THERE HAS TO BE AN ERROR BY SAYING THEY WILL COLLECT QUOTES UNTIL
OCTOBER 27, 1973.
---
THAT IS 1 FULL YEAR AWAY FROM THE DAY OF THIS AD.
---
IT MUST BE QUOTES WILL BE ACCEPTED UNTIL OCTOBER 27, 1972.
THAT'S JUST MY 2 CENTS. DAVID S.